It's a familiar story found in three of the four gospel accounts: On the way to his crucifixion, the soldiers encountered a man named Simon of Cyrene and forced him to carry Jesus's cross all the way to Golgotha, or "Place of the Skull," where Jesus was brutally nailed to the cross in a public execution.
Each account differs a little–one identifies the names of Simon's sons, another tells us Simon was on his way into town from the country–but the basics are the same. Who is Simon? Why did Jesus need help carrying His cross? And what is the deeper significance of this cross-carrying aspect of the crucifixion?
What Does the Bible Say about the Carrying of Jesus' Cross?
The Bible account of this appears in the Books of Matthew, Mark, and Luke, known as the Synoptic Gospels.
Matthew's version is the briefest, simply telling readers, "As they were going out, they met a man from Cyrene, named Simon, and they forced him to carry the cross" (Matthew 27:32).
Mark's gospel account notes, "A certain man from Cyrene, Simon, the father of Alexander and Rufus, was passing by on his way in from the country, and they forced him to carry the cross. They brought Jesus to the place called Golgotha (which means 'the place of the skull')" (Mark 15:21-22).
And Luke's account says, "As the soldiers led him away, they seized Simon from Cyrene, who was on his way in from the country, and put the cross on him and made him carry it behind Jesus. A large number of people followed him, including women who mourned and wailed for him" (Luke 23:26-27).
Only the Gospel of John does not mention Simon of Cyrene, instead noting Jesus carried His own cross (John 19:17).
Who Is Simon of Cyrene?
The Bible doesn't tell us much about the man, but we do know Cyrene was a coastal city located in northern Africa in eastern Libya. Simon's sons Alexander and Rufus were clearly known by those reading Mark's text, given their mention. 
A Rufus is mentioned later, in Romans 16:13, and his mother is credited as being like a mother to the author of that book, though we don't know for certain if this is the same Rufus. Also, the bones of an "Alexander, son of Simon" from that same time period were recently discovered in a burial container, or ossuary, in Jerusalem. 
Some believe the mention of the sons indicates they later became followers of Christ and were active in the early church, perhaps because of their father's role in the cross-carrying. 
But why this man? Why Simon? The Bible tells us nothing beyond that he was "seized" and "forced" to carry the cross. 
Some believe he might have been a Jew who had resettled in Cyrene and was now visiting Jerusalem, and it was because of his Jewish appearance that the soldiers selected him for the task. 
Others think he was a Black man who had come to Jerusalem to worship during Passover. No one knows his race, ethnicity, or religion from these passages. 
Why Did Jesus Need Help with the Cross?
We don't know if Jesus needed help, only that the soldiers forced Simon to help him. But scholars speculate that after the beating Jesus received, He would have been in poor condition to carry something that heavy all that way, at least from a human being's perspective. 
Historians reveal that most of the time, the condemned were forced to carry their crossbeam, which would have been 30-40 pounds. 
Prior to the walk along the Via Dolorosa–or "way of sorrows," a winding route of several streets from Jerusalem to Golgotha–Scripture tells us Jesus was beaten with fists, flogged, crowned with thorns, and struck repeatedly in the head with a staff (Mark 14:65; Mark 15:15, 19, Matthew 26:67; Matthew 27:29).
Walking might have been a challenge for most men, let alone carrying a cross upon freshly broken skin.
But obviously, Jesus is more than a man–as God's Son, Jesus is part of the Holy Trinity, the Triune God, three in one, co-equal and co-eternal.
This is why many scholars believe Jesus "needed" help not for Himself, because of any weakness, but rather for other reasons. Someone needed to serve as a walking symbol, a literal cross-bearer, in this dark moment.
What Did Simon of Cyrene Symbolize?
First, Simon is of Cyrene, meaning he is a foreigner. Whether he is or is not a Jew, he is from someplace other than this region, and therefore his very being brings "the other" onto the scene. Very quickly after the church started, the Holy Spirit made the apostles understand their message was not just for Israel but for all people–Jews, Gentiles, and beyond.
Second, Simon physically models discipleship for us. Jesus told His disciples in Luke 9:23-24, "Whoever wants to be my disciple must deny themselves and take up their cross daily and follow me. For whoever wants to save their life will lose it, but whoever loses their life for me will save it."
Here, we see a person literally taking up the cross and literally following behind Jesus to the site of the crucifixion. It's a beautiful picture of discipleship. After all, it's not always easy to follow Jesus, especially if you live in a place or time where Christians are persecuted or where faith is punishable by death.
Nor is it always easy to take a stand against popular culture that advocates for "an eye for an eye" or "do what feels right." But Jesus died for us. Therefore, we bear the cross for him and share the gospel because he told us to do so.
Third, the positioning of the men is significant and also points to discipleship. The Bible tells us Simon of Cyrene walked behind the Christ carrying the cross (Luke 23:26). We, too, are to walk along in life, sometimes in very difficult situations, keeping our Lord and Savior Jesus Christ ahead of us as our model and our leader as we shoulder our cross.
And fourth, the act of carrying the cross was forced upon Simon of Cyrene, symbolizing another important truth: Carrying our cross isn't necessarily a choice. Simon could certainly have said no–and probably have been executed right along with Jesus, or there in the streets.
But he didn't. And scripture didn't indicate Simon volunteered for the job. He was "forced" to carry the cross. Sometimes, suffering is forced upon us, as with Simon.
As Christians, it's heartening to know the cross is more than a place where Jesus died. It's a place of transformation, where Christ conquered sin and darkness, sacrificing His life so that each one of us who follows Him might have eternal life.
We shoulder that cross with Christ, taking on that burden in honor of what Jesus did for us. It's not always easy, but it is part of our walk as followers of The Way: Jesus. 
For further reading:
What Is the Significance of the Cross?
Why Did Jesus Become Sin When He Knew No Sin?
What Old Testament Prophecies Predicted Jesus and the Cross?
Photo Credit: ©GettyImages
---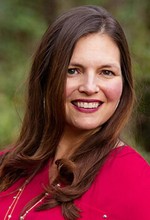 Jessica Brodie is an award-winning Christian novelist, journalist, editor, blogger, and writing coach and the recipient of the 2018 American Christian Fiction Writers Genesis Award for her novel, The Memory Garden. She is also the editor of the South Carolina United Methodist Advocate, the oldest newspaper in Methodism. Learn more about her fiction and read her faith blog at jessicabrodie.com. She has a weekly YouTube devotional, too. You can also connect with her on Facebook, Twitter, and more. She's also produced a free eBook, A God-Centered Life: 10 Faith-Based Practices When You're Feeling Anxious, Grumpy, or Stressed.